I raced like butt this weekend. Not only did I race like butt, but I raced like dumb-ass, sub-normal donkey butt. Racing poorly is one thing but making stupid errors, that just aint right. Saturday was TST and I was the entire WOW contingent. I didn't make it with the lead group of 12 or so over the KOM hill, but they weren't too far ahead. Over the next hill and the rollers that followed I was chasing or attacking with some help chasing from Galen. Everyone else had a man up in the break so was sitting. Finally I managed to attack up the side and get off without towing the entire pack of ~25 riders behind me, and I bridged up to the lead group of 12. That was no easy task as two riders had attacked from that group so they were trying to get away and the remaining 10 were chasing. The fact that I managed to bridge up to the lead group is nice and all but here is where my sub-normal donkey IQ came into play. I thought that we were on the part of the race where it was mostly rollers and descent to the finish, but about 10 meters after I caught the lead pack we turned and headed up Dewatto (sp?), the final climb. I had completely biffed my location on the course and as soon as I saw that hill I knew my race was over. I had dug a pretty big hole for myself bridging up to the lead group and had nothing left to get up the hill. The lead group walked away, then the pack behind caught me and rolled right on through.
D'oh!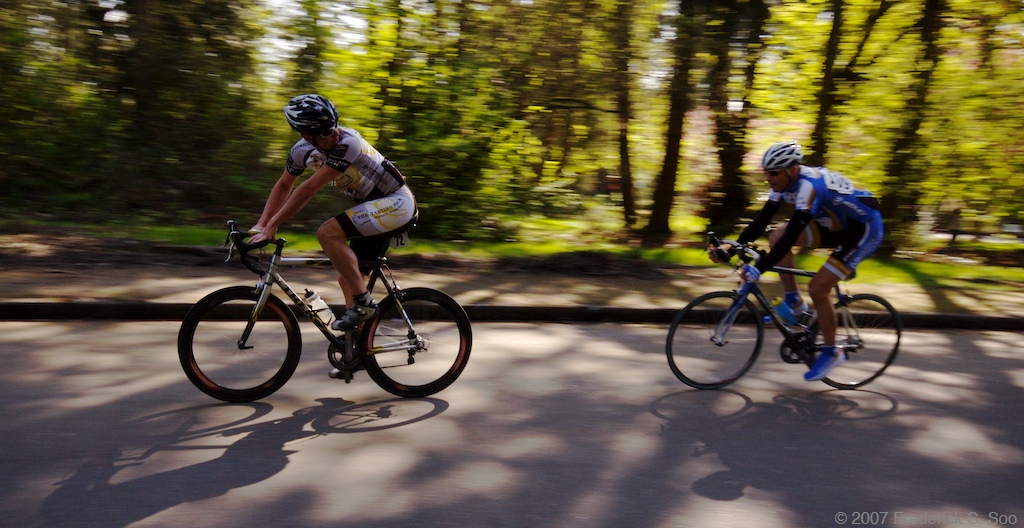 Sunday was the Seward Spring opener (crit). Early on my legs were a little heavy, but I made a couple moves, followed a few more, but nothing that developed. Halfway through the race I saw Chad Nichols getting ready to attack up the hill so I jumped on his wheel and we went flying up the hill. Coming around the hairpin at the top of the hill I started pedaling too soon and clipped a pedal. I'm not 100% certain what went down after that (other than me that is). I skitched and it felt like I was going to hold it up for a split second but then no way, I was down. Next thing I know, I'm on the ground and someone is rolling over the top of me (
Joe Holmes
I believe). I get up and my tire has rolled off of the rim, and though I didn't notice it until after the race, I had cracked the rim in two places as well. Completely my fault and completely avoidable. Many apologies to Joe for attempting to break his elbow for a third time. I heard someone say that he was well but I didn't hear it from his mouth. Hope that it's true.
Walla Walla will be better next weekend, but it will have to be better without a rear race wheel.